Product Information and Orders
WallHolster™
We engineered WallHolster™ to provide superior security, highly resistant to forced attack and manipulation. WallHolster™ is a wise investment to protect your gun from theft and protect your family from harm. We built WallHolster™ to last. In fact, if your WallHolster™ breaks or fails to operate properly in the first 2 years we will repair or replace it free of charge.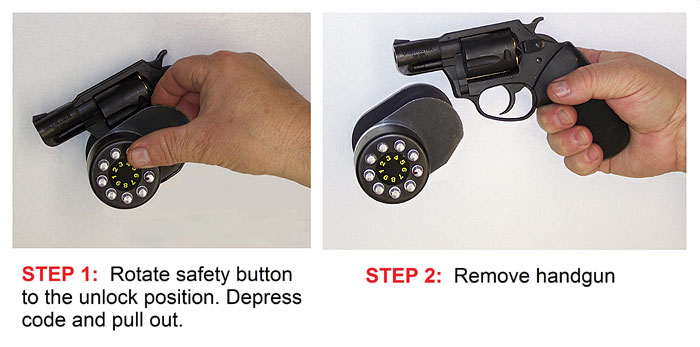 Get rid of that cheap trigger guard lock and get real security. Keep'em Safe, Keep'em Ready.
Push Button Codes: Depending on the type of buttons we build into your WallHolster™, available code combinations can range from 3,000 to over 134 million. We will ship your WallHolster™ with a random, non-changeable code. Keep in mind, all code/buttons must be depressed simultaneously in order for the WallHolster™ to unlock.
Double-Lock Codes: This is a great feature to increase security. On one button there is a dimple on the top. This button can be rotated 360 degrees to any of four different positions. When not in the proper position, the regular WallHolster™ code will not unlock. Only you will know which position is correct. This is a great feature for conceal carry trainers that have numerous guns on the range. This is also a great benefit in a household where the regular code is known by all family members and only you know what the double-lock code is and how it works.
---
PuckIt™
Turn a drawer or cabinet door into a safe storage vault!

Protect children from hazards
Protect teens from meds & alcohol
Use in a hotel or dorm room
Lock up a purse at work
Secure a classroom cabinet
Lock up documents at the office

---
WallHolster Handgun Safe™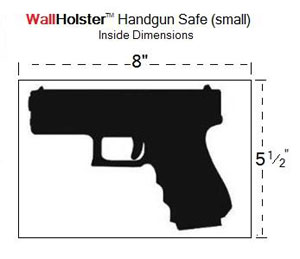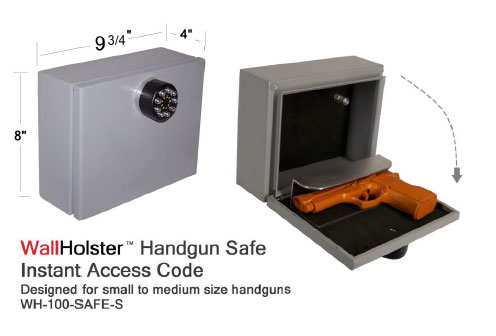 Instantly unlocks, every time!
Protect a curious child
Protect a distraught family member
Safeguard your handgun from theft
Don't let your gun be used against you
Secure to a closet wall or RV cabinet
---
Part Number

Image

Description

Price

Order

WH-100-RH

WallHolster™ in a retail package, for Right handed gun owners

Dear Valued Customer,

We no longer sell WallHolsters in small quantities.

If you are interested in purchasing 300 or more at a time, please contact us for price and availability.

If you are a manufacture, the technology is available for licensing
WH-100-LH

WallHolster™ in a retail package, for Left handed gun owners
WH-100-SAFE-S
WallHolster™ HandGun Safe (small)
P-100-BO

PuckIT™ Black Oxide Finish

$99.00
WARNING: As the standard WallHolster can not safely store a loaded Model 1911 handgun or Derringer, use the WallHolster Handgun Safe (small).
FREE shipping on all orders shipped within the US (USPS flat rate box). No International Orders.
Interested in selling GUNPUCK, LLC products? Contact Us